Ik weet niet of ik verbaasd of geërgerd moet zijn over het gebrek aan fantasie van Franse redacties. Maar ook deze week komen de bekendste weekbladen weer met Sarko-covers. Vorige week hadden twee van de gezaghebbende opiniebladen zelfs nagenoeg dezelfde coverfoto, deze week is het de beurt aan Third Lady Carla. L'Express heeft het eerste interview met haar en kopt "Ik zal mijn best doen". Dat is niet gelukt gezien haar gaffe over de jodenvervolging. Kennelijk had Carla de Elle van deze week niet gelezen, want daarin krijgt Carla adviezen hoe ze kan slagen in het Elysée. In het huisorgaan van de Sarkozytjes, de Paris-Match, ook een uitgebreid artikel over Carla.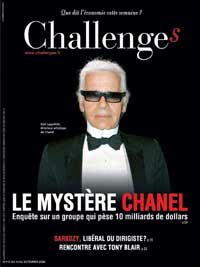 In Challenges een artikel over het imperium Chanel. Het bedrijf is niet beursgenoteerd en de eigenaren, de gebroeders Wertheimer, zijn zeer discreet over de cijfers van het prestigieuze modemerk. Verder een portret van de artistiek directeur van Chanel, de ongeëvenaarde Karl Lagerfeld.
In Le Point een interessant verhaal over de Franse ambtenaren: ondanks alle regeringsbeloften zijn er meer ambtenaren dan ooit, ze kosten meer geld dan ooit en de grote vraag is of het allemaal nut heeft. Volgens het weekblad kunnen 100.000 amtenaren zonder problemen morgen al ontslagen worden: 1 op de 8 ambtenaren is voortdurend afwezig. Een cijfer dat niet zo heel veel zegt, omdat dat in het bedrijfsleven waarschijnlijk ook het geval zal zijn. Het coverartikel van de NouvelObs gaat over "God en de Republiek".