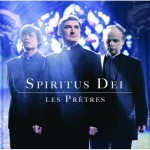 Een groep zingende priesters staat deze week op één in de Franse Top 50. Het album Spiritus Dei van 'Les Prêtres', twee priesters en een seminariestudent uit het bisdom Gap (Zuid-Frankrijk), kwam eind maart uit in Frankrijk en bezet deze week de nummer één in de Franse album Top 50. De groep werd opgericht naar het voorbeeld van de zeer succesvolle Ierse The Priests. Het album is een mix van kerkliederen en populairdere chansons. Zo wordt er gezapt van Ave Maria naar Jacques Brel. In drie weken zijn er al meer dan 100.000 albums verkocht.
Het succes komt als een geschenk uit de hemel op het moment dat de katholieke kerk bijna dagelijks in het nieuws komt met onthullingen van seksueel misbruik door priesters. Juist deze week lanceerde de Franse katholieke kerk een nieuwe campagne om meer priesters te werven onder de noemer "En waarom ik niet?".
De vrome Boys Band treedt op 11 mei en 19 juni a.s. op in de Saint-Roch kerk in Parijs en op 20 juni in Reims (tickets onder andere verkrijgbaar bij de FNAC). Voor de toegewijde fans: het album van Spiritus Deï
kan op Amazon.fr worden gekocht en gedownload. Het is niet bekend of de opbrengsten gebruikt zullen worden voor de slachtoffers van seksueel misbruik door de katholieke kerk. Een deel van de winst zal in ieder geval gebruikt worden voor de bouw van een school in Madagascar en een nieuwe kerk in de Alpen.
[geo_mashup_map]