Ook deze week natuurlijk weer een paar covers gewijd aan de SarkoSaga. Terwijl de media klagen over het feit dat Sarkozy geen minuut voorbij laat gaan om in de media te komen, werken ze er zelf natuurlijk ongegeneerd aan mee. Sarko op de cover doet verkopen.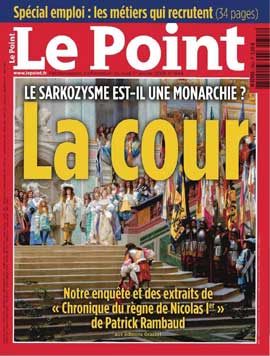 Marianne ontleedt "Het geld, zijn privéleven en hem". In een hoofdredactioneel commentaar vraagt Marianne zich af of Sarkozy journalisten gek maakt. ParisMatch is snel aan het afdalen tot het huisorgaan van het Elysée en komt bijna pathetisch opnieuw met Sarko/Bruni op de cover en heeft een reportage over het ouderlijk huis van Carla Bruni in de buurt van Turijn. Le Point besteedt aandacht aan het 'Hof' van Nicolas de Eerste. Het koningsgezinde Point de Vue recyclet een oude foto van Cécilia die in november j.l. op de cover van Elle stond en schrijft dat de Ex-First in de val is getrapt van het journalistentuig. L'Express kijkt de grenzen over en vertelt ons wie Barack Obama eigenlijk is. Bijna iedere week hebben twee of meer bladen precies hetzelfde onderwerp. Deze week publiceren zowel L'Express als Challenges een ranglijst van de beste "Écoles préparatoires".
Le Nouvel Obs heeft een special over Tibet, maar of dat is om de dvd 'Kundun' te promoten die bij het blad zit wordt niet geheel duidelijk.