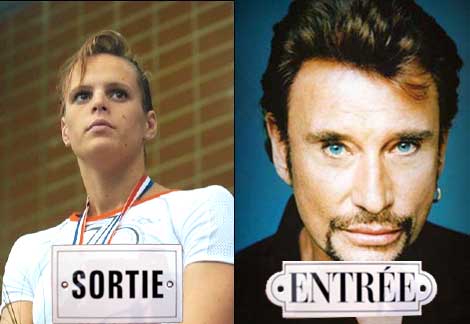 Voor bijna-president Nicolas Sarkozy is het simpel: of je houdt van Frankrijk, of je pakt je biezen.
Jean-Philippe Smet (63), alias Johnny Hallyday, Frankrijks grootste rockster, houdt van Frankrijk maar niet van belasting betalen. Hij pakte daarom vorig jaar zijn koffers om zich in het Zwitserse Gstaad als fiscaal asielzoeker te vestigen. Nu zijn vriend Sarko tot president is gekozen, komen de De Smetjes terug. Dat zei althans zijn 31 jaar jongere echtgenote Laeticia dinsdagochtend in een interview met het radiostation RTL. "Nicolas wil een belastingplafond van 50%. Dat wil dus zeggen dat je de helft van het jaar voor de staat werkt, en niet driekwart jaar zoals nu," aldus het voormalige topmodel gisteren.
Op dezelfde dag dat Hallyday zijn terugkomst bekendmaakte, kwam het bericht dat Laure Manaudou (20 jaar), Frankrijk grootste zwemster (vijf medailles op het WK Zwemmen in Melbourne eind maart), het land verlaat. Zij houdt ook van Frankrijk, maar nog meer van de Italiaanse zwemmer Luca Marin. Zij zal vanmiddag op een persconferentie bekendmaken dat ze gaat trainen bij de Turijnse zwemclub LaPresse. Manaudou wil bij haar vriendje in de buurt zijn en het gerucht circuleert dat ze zwanger zou zijn van de Italiaan. Manaudou heeft gezegd dat ze voorlopig wel voor het nationale team van Frankrijk blijft uitkomen.