Y tu mama también (MEX 2005, 105′). Dir.: Alfonso Cuarón. With Gael García Bernal, Diego Luna and Ana López Mercado. My rating:Official site
I saw two Mexican movies this year, and I must say: da me mas! Or give me more. Y tu mama tambien is a roadmovie of the coming of age of two adolescent friends. When a beautiful, slightly elder woman decides to join them on their holiday trip it means trouble for their friendship. But good news for their hormones.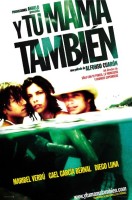 Y tu mama también is a refreshing, funny and touching movie about friendship, with excellent actors. Notably Gaël Garcia Bernal is one of the hottest young faces in today's independent cinema.